Think about these three common activities in your workplace.
The next time you are invited to a town hall or big office announcement observe where the leadership team stops, and who they talk to as they amble down to the meeting.
Note at your next meeting who can influence others without seemingly having the authority for such an action to happen.
When looking to put a project team together note the names of those who are mentioned and who are not in the formal management hierarchy.
What each of these insights will give you is an appreciation of potential leadership in your organisation that is outside the normal channels of authority. Take the first point. The senior leadership team rarely meets with all the staff on a routine basis. Senior managers will be keen to use the opportunity to introduce the next high-flyer in their team. Senior managers, unknown to you, discuss the future talent pipeline and the leadership routinely uses these brief moments to get introduced. They stop by a desk, or cubicle and will be introduced to an up and coming talent.
Learn How to Lead
Develop your management skills and learn how to become a great leader.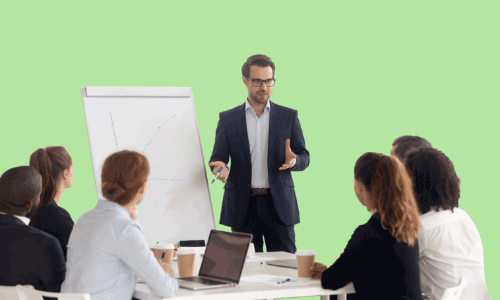 In scene two, observe who has the confidence and determination to provide input and insight to a topic where previously you had no idea that this team member had some insight. Emerging leaders take time in their own area to develop an understanding of the competitive lay of the land in which they operate. They develop expertise and insights that senior leaders grow to depend upon. Often these influencers will not have any formal authority but by reading up and speaking courageously at the right time, get listened to and over time their insights will be rewarded with more responsibility and rewards.
In the final scene, when a project team is being put together, the PM will usually want to ensure that the key influencers on the floor are part of the project team. This is because for change to be successful, PMs need to have recognized influencers on the team. These influencers are leaders without formal authority, who take the time to develop expertise, expertise which is recognized on the floor.
By honing your observation skills, and learning to understand the underlying dynamics of what's happening in these team meetings you will gain insights into how leaders learn about, recruit and recognize future leaders on the frontline.
Looking to sharpen your management skills? Join our top-rated Professional Diploma in Leadership and Management today!
Join 12+ million students who already have a head start.
Sign up today and get 4 weeks free!
No commitments. Cancel at any time.