The king of herbs, basil, has taken over many gardens because of its unique aromatic flavour but very few of us are aware about the historical significance and health benefits associated with it.
Let's peek into the auspicious aspect of holy basil and the health benefit intact to it.
This herb always marked its presence, whether it be modern homes or if we look into ancient history, the Rig Veda. In India, basil is considered holy and worshiped. It has also been adopted into spiritual rituals. These holy leaves hold a great value in Indian Culture and lifestyle. Basil which in fact is called Tulsi in India, does mean "Incomparable one".
Recommended for you: Learn everything you need to know about nutrition with our online course. Join today and get the first 4 weeks for free!
Yes, it can't be compared with any others as it is one of the chief ingredients used in Ayurvedic medicines.
Basil leaves have a very rich and distinct fragrance, and flavour which can discern easily in their pesto, but as most of us think basil is much beyond than just a pesto. Less known fact about basil is its usage as an important ingredient in Ayurvedic medicine. It provides a vast array of health benefits that are under the verge of confirmation by modern scientist and medical practitioners. These emerging scientific studies on Tulsi reinforces ancient Ayurveda wisdom which suggests that Tulsi is like a tonic for whole body, it benefits spirit and mind that offers solutions to many modern day health problems.
Learn Nutrition
Delve into the complex world of food science and discover how nutrition works from the inside out.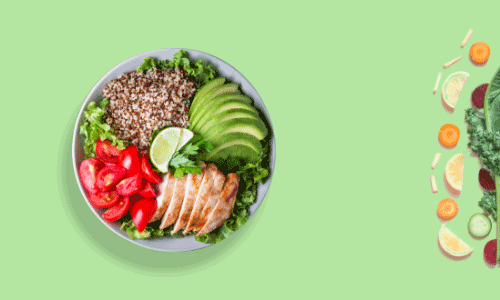 Daily consumption of tulsi helps preventing various diseases, release stress of daily life and it promotes general health, wellbeing and longevity. Studies reveal that Tulsi gives natural sheen to the complexion, sweetness to the voice and foster beauty, intelligence and stamina 1,2,3,4.
In addition to health-promoting properties, Basil is recommended as a remedy for a range of conditions which include anxiety, cough, asthma, stomach infection (diarrhoea, dysentery, gastric problem), fever, arthritis, eye diseases, vomiting, cardiac disorders, back pain, skin diseases, ringworm, insect, snake and scorpion bites and malaria1,3,4,5.
Let's come to your health problem. So which one is your disorder? This wonder leaf helps in providing solution to many specific problems.
Just chew a few basil leaves to get rid of cough and cold.
This herb also mobilizes mucus movement.
Being curative in nature, basil leaves are great in insect bites. Applying a 1 tsp of leaf juice to affected parts helps relieving pain.
In fever drink tea boiled with basil leaves. This helps to prevent dengue and malaria or in high fever boil basil leaves along with cardamom powder in half a liter of water. Mix with sugar and milk and drink up.
Honey mixed with ginger and basil leaves is excellent for respiratory disorders like asthma, influenza and bronchitis.
Consumptions of basil leaf juice in honey daily for six months helps expel kidney stone via the urinary tract.
Basil is beneficial for cardiac patients. It is helpful in reducing blood cholesterol levels.
During stress chew basil leaves to avoid stress.
Basil leaves chewing also counters mouth infections, ulcers and pyorrhoea.
For sore throat, basil leaves boiled in water will help in soothing.
Mixture of basil leaves and sandalwood powder paste if applied on forehead helps alleviates headaches.
A study reveals that a wide range of essential oil is present in Basil. This includes phenolic compounds and some other natural products like polyphenols such as anthocyanins and flavonoids6. According to Swiss Federal Institute of Technology Basil herb has high content of (E)-beta-caryophyllene (BCP), which may help in treating arthritis and inflammatory bowel diseases.
Varieties and Characteristics
A variety of Basil were cultivated across the world. Some of the most popular and widely used varieties are:
Mediterranean Basil: They are slightly sweet in taste
Italian Basil: They are much sweeter in taste if compared with Mediterranean basil.
Indian Basil: They have strong fragrance and pungent flavour.
African Blue Basil: This is Citrus in taste.
Thai Basil/ sweet Basil: This is sweeter as compared to Mediterranean and Italian Basil. These basil grows to a height of 75cm (2ft 6in).
Perennial Basil (Africa and Asia): This basil has strong flavour but is less pleasant.
Lemon Basil: This basil possesses the taste of mild lemon. It grows to a height of 30cm (12in).
Selection and Storage
Always go for fresh leaves as they are superior in flavour as compared to dried ones. While purchasing always ensure that the leaves are deep green in colour and free from yellowing or dark spot. If purchasing dried form, then ensure that you are buying organically grown basil. This will give you an assurance that it has not been irradiated.
Always use slightly damp towel while storing fresh basil in the refrigerator or you can freeze them in airtight containers.
Basil name known in different languages
Icelandic- Basilika
Russian- Vasilki
Romanian- Busuioc
French-Basilic, Herboroyale
German- Konigskraut
Greek- Vasilikos
Italian- Basilico
Japenese- Bajiru
Korean- Pasil
References:
Singh N, Hoette Y, Miller R. Tulsi: The Mother Medicine of Nature. 2nd ed. Lucknow: International Institute of Herbal Medicine; 2010. pp. 28–47.
Mahajan N, Rawal S, Verma M, Poddar M, Alok S. A phytopharmacological overview on Ocimum species with special emphasis on Ocimum sanctum. Biomed Prev Nutr. 2013;3: 185–92.
Mohan L, Amberkar MV, Kumari M. Ocimum sanctum linn. (TULSI)-an overview. Int J Pharm Sci Rev Res. 2011; 7:51–3.
Pattanayak P, Behera P, Das D, Panda SK. Ocimum sanctum Linn. A reservoir plant for therapeutic applications: An overview. Pharmacogn Rev. 2010; 4:95–105.
Mondal S, Mirdha BR, Mahapatra SC. The science behind sacredness of Tulsi (Ocimum sanctum Linn.) Indian J Physiol Pharmacol. 2009; 53:291–306.
Juliani HR, Simon JE. Antioxidant activity of basil. Trends in New Crops and New uses. 2002; 575-579.
Jurg G, Macro L, Stefan R, Ildiko R, Jian Z etal. Beta Caryophyllene is a dietary cannabinoid. PNAS. 2008;105(26): 9099-9104.
Looking to improve your knowledge of nutrition? Join our top-rated Professional Diploma in Nutrition today!
Join 12+ million students who already have a head start.
Sign up today and get 4 weeks free!
No commitments. Cancel at any time.