What makes an effective leader is the use of good management qualities. Great leaders know that some of the best leadership skills involve listening to others with complete attention. The leaders with excellent management qualities inspire effort, participation and change, and the best technique to check them is based on the advice they get from their people. People generally give better ratings to leaders you trust and to them who listen carefully. Communicating properly and often saying, thank you or welcome, and making working atmosphere enjoyable are just a few simple, but important things managers can do to ease into the leadership position.
Becoming a leader requires the better understanding of the role and responsibility of being an effective leader. People in a leadership role must make better choices and the right decisions for the others. In a recent leadership study, skills such as adaptability, confidence, intelligence and conscientiousness were referred as the most important leadership qualities. The study further states that leaders who are confident, inspirational, and who develop and empower followers are the best.
Learn How to Lead
Develop your management skills and learn how to become a great leader.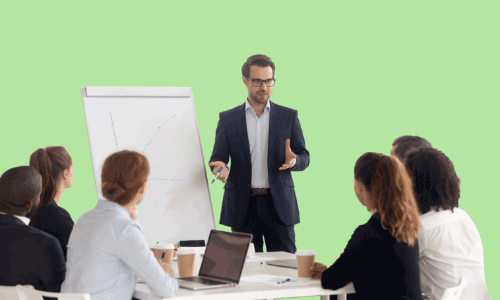 Leaders are mostly self-motivated due to their consistent handwork in improving their management skills. No one is born as an effective leader, but one can encourage to advance their leadership qualities by understanding what leaders do. Below are some tips you can focus on to strengthen your leadership skills. Consider these for how to be a better leader and think about ways that you can apply these strategies in your day-to-day life:
Know your current leadership style:
Knowing your current leadership style is very important. What are your strengths? What are your core values? Which areas need improvement? The best way to analyse your skills is to take a leadership test to get a general idea of how you lead. Once you have completed the test, know about the key features of your leading style. Analyse whether these skills, helping or hindering your leadership? Once you know where to improve, you can start looking for ways to enhance your leadership qualities.
Focus on your strengths:
A successful leader always emphasis on greatest strengths in themselves and in others as well. The fact is that strong people have far more weaknesses than strengths. One can never attain greatness by compensating the weaknesses. You can become an effective and an outstanding leader by understanding your possible strength and energies.
Communicate effectively:
One of the most important skills of an outstanding leader is to listen and communicate effectively, especially with group members. Best leaders always show sincere attention and concern for their team both verbally and non-verbally. By keeping the communication channel open, a leader can ensure that team members feel free to participate and are recognized for their accomplishments.
Quality of integrity:
Possibly this is the most vital and appreciated quality of a person in a leadership position with notable management skills. Leaders with the quality of integrity always walk the talk. They are reliable, moral, honest, and trustworthy. Their actions often match their words. Leaders with integrity can be easily trusted by their teammates, superiors or even the public.
Be a role model:
Perfect influence is another main component of leadership. Leaders represent the characteristics, qualities and behaviours' that they inspire in their followers. They always impress others by setting examples and logical answer to a problem by listening first, which builds confidence in others. Thus, team members like these strengths of the leaders, and work to match these qualities. If you really want to become an inspiring leader, work on modelling the skills that you would like to see in others.
Offer rewards and recognition:
Another essential skill of an effective leader comprises, understanding that providing timely rewards and recognition is one of the best ways to help teammates and followers feel respected and happy. We all know that happy people tend to perform better. Leaders can help teammates feel happier by offering appreciations, helping them and rewarding strong efforts. Some of these tactics involve listening with undivided attention, offering praise and appreciating people for their work.
Clear vision:
A good leader always starts the work by understanding the situation. The most common skill of leadership is that they have a clear vision to see the big picture. A leader can plan forward 2 – 5 years and imagine positively where they want to take the company and how it will look like when they get there.
These were the few simple ways of improving the leadership skills. Leadership qualities may not come naturally to everyone, but almost everyone can learn to be a better manager. To do this, you must believe in yourself, and be persuaded that you have all that it needs to succeed. Try to advance your skills, constantly add to your knowledge and you'll surely develop the resources needed to help colleagues do their best work while enjoying your own work fully. Always keep on looking for new ways to improve your leadership skills and take your role to the next level.
Looking to sharpen your management skills? Join our top-rated Professional Diploma in Leadership and Management today!
Join 12+ million students who already have a head start.
Sign up today and get 4 weeks free!
No commitments. Cancel at any time.