People with rectangle body shapes are often worried that their straight frames are difficult to style, but it's actually such a fun shape to dress. If you have a rectangle shape, most things look great on you: it's just about getting the balance right.
What is a rectangle body shape?
The rectangle body shape isn't a particularly curvy shape. The shoulders and hips are almost the same width and the waist isn't very defined, which explains why it's referred to as the rectangle shape.
Learn Fashion Design
Learn the practical illustration and sewing skills you need to bring your wildest fashion dreams to life.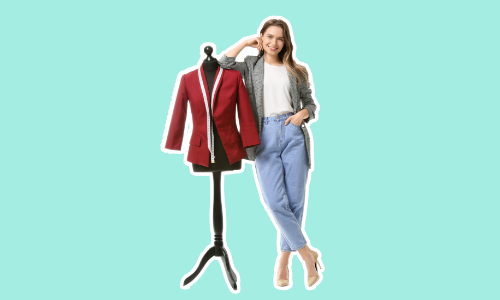 How to tell if you're a rectangle body shape
You can determine your body shape by measuring the following parts of your body:
Shoulders: Measure around the very top of your shoulders, just above the shoulder blades.
Bust: Measure around the fullest part of the bust without holding the tape too tightly.
Waist: Measure around the smallest part of the waist. Usually, this is just above the navel.
Hips: Measure around the fullest or widest part. Usually, this is just below the hip bone.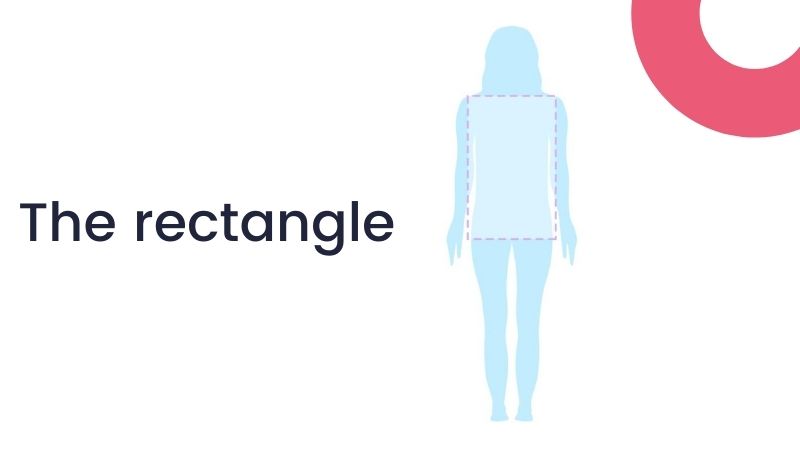 A rectangle body shape will have fairly uniform measurements; the shoulders and hips will be similar and the waist won't be much smaller. If you have fairly uniform measurements but you are curvy or plus-sized, you're more likely to identify with the apple-shaped body. If your shoulders are wider than your waist and hips, then you're an inverted triangle shape, which is a variation of the rectangle shape. You can learn about the other body shapes in Shaw Academy's online fashion design course.
Remember that bodies come in all shapes and sizes and you may find you don't fit neatly into any of the four categories, or that your shape fluctuates with your weight. That's completely normal. The truth is, most people fit somewhere in-between: the body types and style tips are just a guideline, and ultimately you should wear anything that makes you feel good.
Celebrities with a rectangle body type
It's always helpful to look to the red carpet for inspiration and style ideas. Celebrities with rectangle body shapes include Cameron Diaz, Naomie Harris, Natalie Portman, Meghan Markle, Sheryl Crow, Kate Moss, Jane Fonda, and Jada Pinkett Smith.
→ RELATED READING:
How to dress a rectangle body type
Once you learn how to dress a rectangle body shape, you can have a whole lot of fun with your wardrobe. With a fairly uniform frame, you can choose what you would most like to flaunt or conceal. Just remember the keyword: balance. An easy way to create balance is by focusing on either the top half or the bottom half of the body. Take the opportunity to mix and match pieces to create interesting looks. Dressing is all about expressing your personality, so embrace your shape and celebrate your personality by experimenting with clothes that bring a smile to your face.
If you're into fashion, why not learn to create your own fashion sketches to design the perfect piece for your body? Who knows, you could even start your own clothing line someday.
Tops for rectangle body shape
Rectangle shapes look great when you're drawing attention to your arms and shoulders, and showing off your waist. Consider pieces like strapless tops, scoop or round necklines, or even sporty cuts like a halterneck or racerback. If you are a slightly curvy rectangle shape, you can elongate the neck by wearing necklines like a crew, cowl, or V-neck. High necklines are also great on rectangles, especially if it has a racer or low back.
If you have a small bust and want to play it up, go for something with a statement collar or an embellished neckline. If you want to add some definition to the waist, tuck your top in or belt it. Because your shape is so balanced, you can pull off most sleeve types and lengths.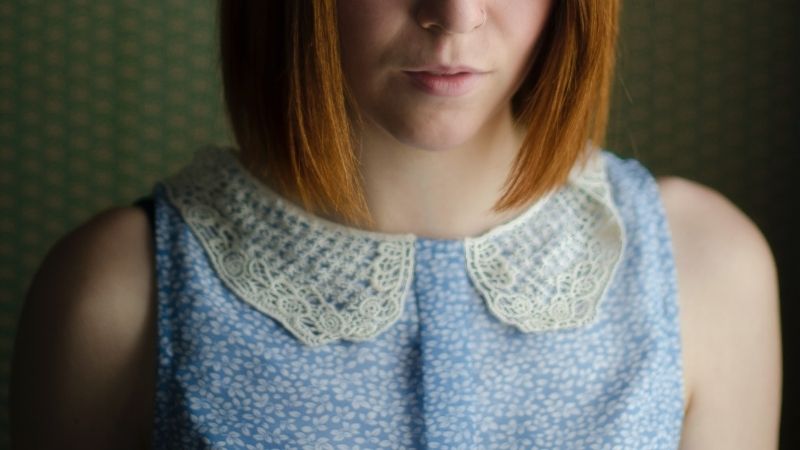 Layers for a rectangle body shape
When selecting outerwear, don't be afraid to choose something voluminous. A bomber jacket, duster, or peacoat can really pull an outfit together. If you're slender, go for structured and fitted styles. If you want your waist to appear smaller, A-line cuts with a hem that hits either the hip or just below the knee are good choices. On the other hand, if you want to add more shape around your waist area, go for cropped or elastic styles that accentuate your waistline.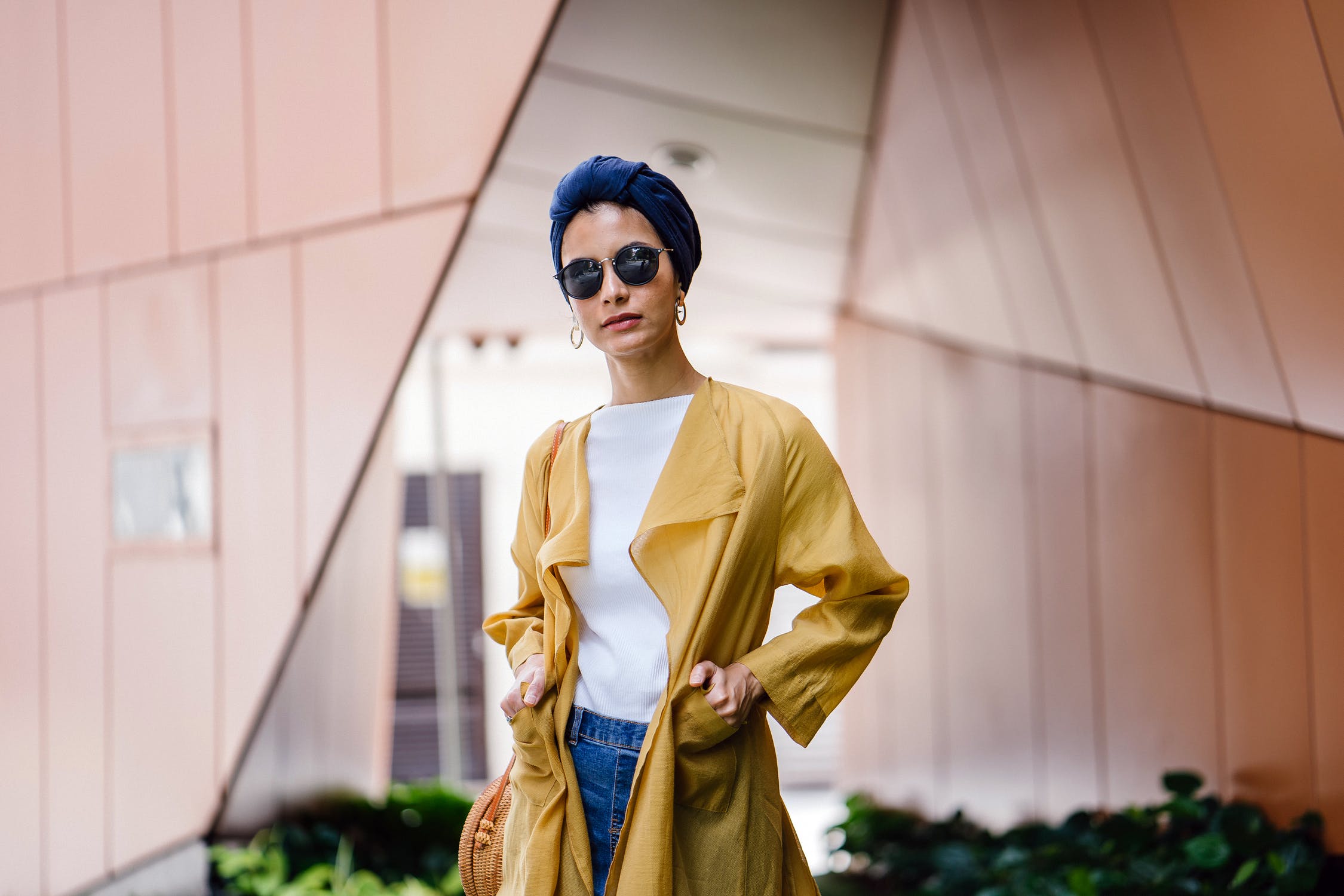 Bottoms for a rectangle body shape
If you are wearing an oversized shirt, choose something more fitted like skinny jeans, leggings, or fitted trousers for the bottom, and vice versa. This will help balance your body shape. Flares and bootcuts are great because they are both slimming and elongating. High-waisted bottoms are a little bit tricky to work with when you have a less defined waistline, so rather invest in medium-rise jeans which are easier to create a balanced look with. If you want to create more shape around the hip area, pick flowy bottoms or something with gathers.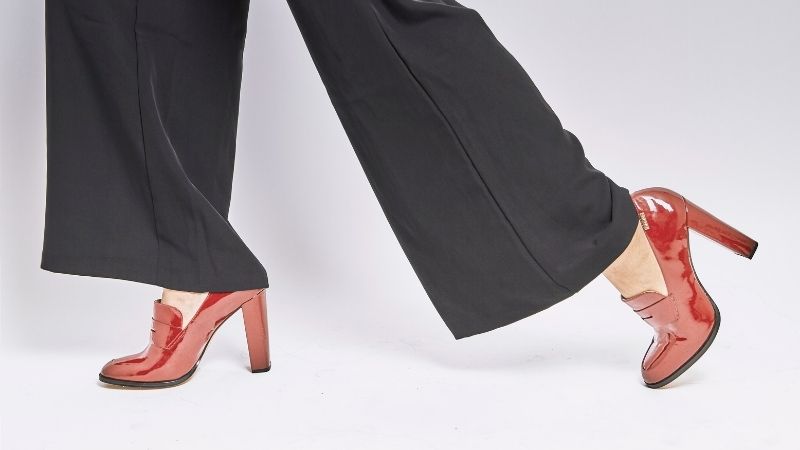 Dresses for a rectangle body shape
Because most dresses and skirts will look good on you, you really need to figure out what you want to highlight. If you like your legs, choose a dress that shows them off. A dress with a plunging neckline is perfect for flaunting your bust. Be aware of dresses and skirts with too much volume, as these can look very consuming. Go for a belted waist if you'd like more definition in your mid-section.
Accessories for a rectangle body shape
If you want to draw attention to the top half of your body, go for statement earrings, necklaces, or a scarf. Some bangles will also lengthen your arms and will create movement and balance.
Wedding dresses for the rectangle body shape
Choosing a wedding dress for a rectangle body shape can be really fun because there are such a huge number of styles that suit your frame, and who doesn't want to look back at their wedding photos with a smile?
The ball gown gives shape to body types that are smaller in the hip area, and balances your torso and your bust. The mermaid gown will also work for the rectangle body shape, as it will show off your waist. An A-line gown suits most body types because it creates curves in all the right places. A sheath or column gown looks best on the rectangle because it is flattering to a slender shape, it elongates the body making it appear taller, and it clings to the body showing off the shape underneath. A good example of this is Meghan Markle's wedding dress.
Want to learn more?
The world of fashion awaits you. Learn how to look your best, understand the principles of design, and even get tips for starting your own fashion brand. Join Shaw Academy's online fashion design course today.
Join Shaw Academy's online fashion design course.
Sign up today and get a free 4-week trial!