Whether you're planning an outfit for an event, looking for the perfect wedding dress, or shopping for versatile items to build a capsule wardrobe, understanding how to dress for your body type can make the process a whole lot easier. Read about the most common body shapes, and explore our comprehensive guides on what to wear, celebrities with the same body shape as you, and styling tips.
Learn Fashion Design
Step into the fashion industry in style, and turn your passion for style into a career in just 16 weeks.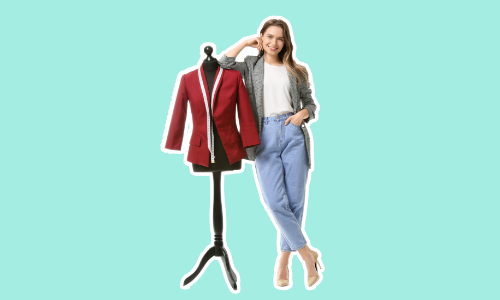 How to measure your body shape
Generally speaking, your body shape is determined by your waist to hip ratio, along with your shoulder and bust measurements. Measure against your skin, rather than over clothes. The measuring tape should fit snugly when measuring, without indenting your skin. If you don't have a measuring tape, you can just use a piece of string or wool. Just mark down the measurements, and you'll get a sense of the differences between them, which is all you really need to know.
How to measure waist
To measure your waist, wrap the tape measure around the smallest part of the waist. This is usually just above your naval.
How to measure hips
When measuring your hips, place the measuring tape around the fullest part of your hip. This will usually be just below the hip bone.
How to measure bust
Measure your bust by placing the tape around the fullest part of your bust, while standing normally. Don't pull the tape tight: it should just sit against your skin without indenting any flesh.
How to measure shoulders
Measure your shoulders around the top, just above the shoulder blades. Relax and stand up straight when measuring.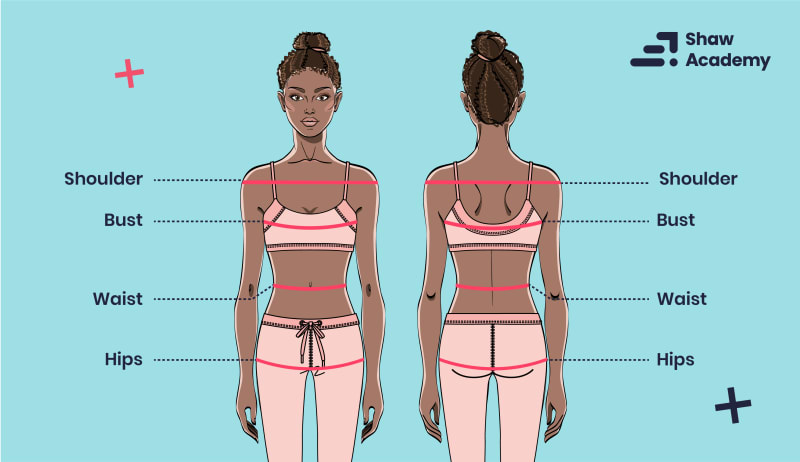 What body shape do I have?
Now that you've taken your measurements, you can determine which of the four main body shapes you identify with the most. There are loads of body shapes, but most of them fit into four main types.
If your measurements are fairly uniform from top to bottom, and you have a fairly slim frame, you are likely a rectangle body shape. This is the most common body shape, and it is also known as the square body shape or straight body shape. You may also have heard of an inverted triangle shape, which features broad shoulders with narrow hips. You can follow the advice for a rectangle-shaped body if this is you.
If you have similar measurements from top to bottom, but you're quite curvy, you might find you identify more with the apple-shaped body. Apples are widest around the middle, and are also sometimes referred to as a diamond-shaped body, round body shape, or oval body shape.
A pear-shaped body is defined by broad hips with a narrower waist, bust, and shoulders. Pears are also often referred to as a spoon-shaped body or a triangle-shaped body.
An hourglass figure has a waist that measures significantly smaller than the bust, shoulders, and hips. Some people split this category into a top-hourglass figure and a bottom-hourglass figure, depending whether the hips or bust are broader, but the same principles apply, so don't get too hung up on it.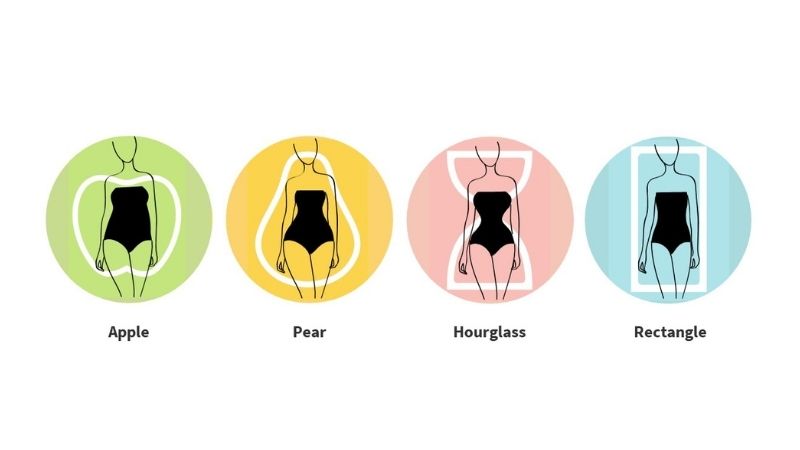 It's important to remember that these body shapes are just a guide, and that most bodies fit somewhere in-between. Also, all kinds of factors, including weight fluctuations, your menstrual cycle, and even water retention can change your body's shape over the years, months, or even during the course of the day. This is completely normal, and you don't need to worry if you're not sure where your body fits. All bodies are unique.
Body shape calculator
If you're unsure, a body shape calculator can tell you exactly what body shape you have. These tools calculate the ratios for you, so you simply input your measurements and click "calculate": the results are instant.
→ RELATED READING:
Pear-shaped body type
If you have a pear-shaped body, your hips are the widest part of your body. Your waist is narrower than your hips, and your shoulders are the smallest measurement. A spoon-shaped body is another name for a pear-shaped body, and it is also sometimes referred to as a triangle body shape.
With this body type, fitted and structured tops work well, and you can have some fun with big, embellished sleeves without your body looking out of balance. Horizontal stripes can also balance out your form, making your upper half look a little wider. Cropped, waist-length jackets will emphasise your waist and look really flattering. A-line dresses and skirts are also a great fit.
Read our comprehensive guide on how to dress a pear-shaped body.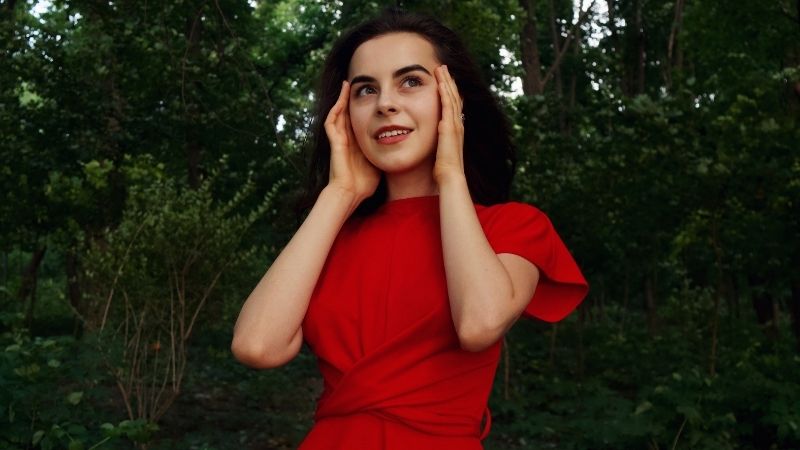 If you're hoping to find some style inspiration from the red carpet, take a look at some celebrities with pear-shaped bodies, like Kelly Clarkson, Beyoncé, Kim Kardashian, Jennifer Lopez, Iskra Lawrence, and Shakira.
Apple-shaped body type
An apple-shaped body's shoulder, bust, and waist measurements will be the largest, with either a slightly smaller or similarly sized hip. This body shape is also sometimes called a round body shape or oval body shape. The diamond body shape is similar to the apple, however it is defined by narrower shoulders and hips. The mid-section is significantly wider than any other measurement. Usually people with this body shape have quite skinny arms and legs. The guidelines for styling this body type are the same as the apple-shaped body.
Many women with apple-shaped bodies feel the need to conceal their midsection with layers and loose clothing, but this isn't the way to go. You can wear form-fitting clothes: the most important thing is that you feel good in what you wear. That said, there are some styles that suit the apple-shaped body really well. Tops and dresses with a-line silhouettes and v-necks are a winner, and wrap tops or dresses can add definition to your waist. Skinny jeans suit the apple well, and ultra-high-waisted options can be good for defining your waist, especially if you're taller. Always balance your look: if you're wearing skinny jeans, you could go for a looser, more flowy top, or vice versa.
Read more about how to dress an apple-shaped body.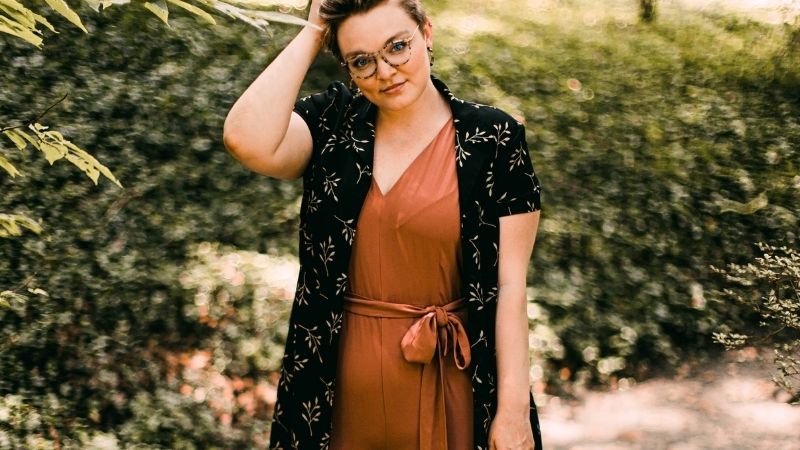 Celebrities with apple-shaped figures include Amy Schumer, Mindy Kaling, Drew Barrymore, Adele, and Missy Elliott, and you'll find some great style tips by checking out their looks.
Hourglass figure
If your shoulder and hip measurements are nearly equal, but your waist is significantly narrower, you probably have an hourglass figure. There are a number of variations on this body shape, including a top hourglass figure, where the bust is the biggest measurement. This is also known as the inverted triangle. The same guidelines apply to each of these, and you should choose items that make you feel great.
Generally speaking, outfits that define the waist and accentuate the curves are great on hourglass body shapes. Figure-hugging bodycon dresses, wrap tops, and scooped necklines are great for this. Choose cropped, fitted jackets, or coats with a cinched waist: boxy outerwear will just hide your lovely natural curves. Skinny, flared, and slouch jeans will all suit you, so it's a matter of personal style. The hourglass shape is quite balanced, so you have a lot of freedom.
Read our comprehensive guide on how to dress an hourglass figure.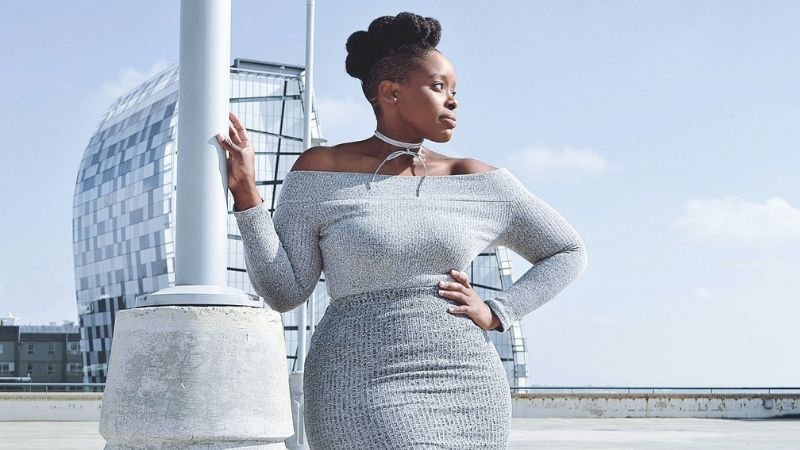 The hourglass figure is the least common body shape, so it can be tough to find style inspo. Some celebrities with an hourglass figure include Serena Williams, Christina Hendricks, Nigella Lawson, and Sofia Vergara.
Rectangle body type
The rectangle body shape isn't particularly curvy. The shoulders and hips are almost the same width and the waist isn't very defined, giving the body a fairly straight shape. Dressing a rectangle body type is all about balance. Most things look great on you, so it's a matter of choosing what you'd like to highlight about your body.
When it comes to tops and dresses, most cuts are designed with this body shape in mind and it is hard to go wrong. If you want to highlight your bust, go for embellished necklines. If you'd like to define your waist, adding a belt is a great trick. Tucked-in tops also look great on a rectangle frame. The rectangle is quite a naturally slender frame, so don't hesitate to add bulky oversized outerwear, which can make for a fun, bold look. Flared bottoms are great for adding balance to your frame, and gathers and pleats can add a lot of definition to your waist.
Read our full guide on how to dress a rectangle body type.
The rectangle body shape is the most common, with around 46% of all women fitting this description. Some notable celebrities with this shape are Cameron Diaz, Naomie Harris, Natalie Portman, Meghan Markle, Jane Fonda, and Jada Pinkett Smith.
Inverted triangle body type
The inverted triangle body shape is another shape that many women identify with, which has narrow hips and a broad bust. It is really a variation of both the hourglass figure and the rectangle body shape, so the guidelines for either will apply to you.
Want to learn more about dressing for your body shape?
Shaw Academy's online fashion design course will teach you not only how to dress well, but how to make alterations, how to draw fashion sketches, and even how to design your own clothes. In the 16 week online course you could go from total beginner to proficient designer, with a stunning portfolio of your own designs to prove it.
If bringing your own designs to life is not what you're after, but you love clothes and want to improve your style, check out the online image consultancy course.