One food type that you'll want to consider adding to your menu is seafood. Typically rich in protein, it's a great food that will help you recover from all those intense workouts that you may be doing. Seafood is slightly pricier than land-animal protein sources so for this reason you may not eat as much of it. As such, it is more important than ever that you take into consideration which varieties of seafood are the healthiest so that you can get the best payoff nutritionally speaking.
Recommended for you: Learn everything you need to know about nutrition with our online course. Join today and get the first 4 weeks for free!
Let's look at the seafood varieties you should be eating.
Wild Salmon
Topping the list is salmon. Salmon is a very good source of quality lean protein and will also provide you with a rich dose of omega-3 fatty acids. The total level of omega-3 fatty acids to the level of omega-6 fatty acids is extremely preferable in this salmon, thus it is considered a great anti-inflammatory. Salmon will also provide you with a powerful dose of selenium, giving you over 70% of your total daily needs.
The one thing to note when choosing salmon, however, is to make sure that you do go for wild caught instead of farm raised. Farm raised salmon often contains PCB's thanks to polluted waters, which can go on to cause health harm if consumed often enough. Ideally you should aim to eat salmon at least twice per week.
Rainbow Trout
Another good fish to consume in your regular diet plan is rainbow trout. This fish variety will also boast a good level of omega-3 fatty acids and in addition to that, will also contain just a small fraction of mercury. With many fish varieties, you need to limit how much and how often you consume them due to their higher mercury content. Not with this one – you can eat it regularly and put your mind at ease.
Rainbow trout is also a very good source of vitamin B12 and niacin, and may help to keep your cholesterol levels in check. If you are worried about heart health, rainbow trout is a fantastic food to have in your plate.
Oysters
Too many people shun oysters due to the consistency and texture of them, but they are a great go-to if you want to boost your health. This seafood variety is loaded with zinc, making them especially helpful to men who need a certain level of this mineral in their diet to support their testosterone levels. Even women will benefit from this powerful zinc dose that oysters bring as it can help keep their libido levels higher.
Oysters are also a very weight-loss friendly food as they are low in calories for the total volume that you eat. Compared to the same amount of chicken, you'd take in just half the calories when eating oysters. Finally, the strong dose of potassium and magnesium found in oysters may help you keep your blood pressure levels in check, improving heart health.
Alaskan King Crab
If you love a good crab dish, don't feel guilty about adding it to your diet plan. Provided you cook crab in a healthy manner, not drenching it in butter or cheese, it is one of the healthiest protein sources to have in your diet plan. Alaskan King crab is also very low in total mercury content and will also offer a decent dose of omega-3 fatty acids as well. Just like oysters, Alaskan crab also offers a good amount of zinc. You'll get about half your daily zinc needs with one serving of crab. Where crab really shines however is with its vitamin B12 content as it will provide you with five times your recommended daily intake. When choosing your crab, just be sure that you avoid blue crab, which will contain far more mercury and potentially harmful PCB's.
Learn Nutrition
Delve into the complex world of food science and discover how nutrition works from the inside out.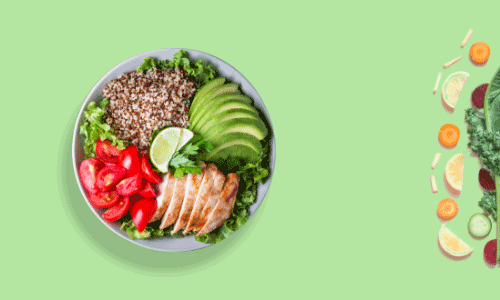 Halibut
Another fish variety to consider eating if you aren't the biggest fan of salmon is that of halibut. Halibut will also provide you with some omega-3 fatty acids and is a good fish for promoting a strong heart. It'll also deliver some vitamin B12, vitamin B6, as well as folic acid. Halibut also delivers a strong dose of magnesium, which will help to keep blood pressure levels in check and may also help to improve your sleep quality as well. The one drawback of halibut to note is that it does contain a bit more mercury. While it's not high enough that you should avoid it entirely, it would be a good idea to keep your intake of it to just once per week or two.
Shrimp
Finally, last on the list of healthy seafood options is shrimp, which is quite low in calories per volume eaten. Shrimp is also very low in fat, so almost entirely all protein and will work hard to support your muscle building goals. Shrimp also has an incredibly low mercury content, so it's one seafood variety you can feel great about eating often. The only caution with shrimp is that it does contain a slightly higher cholesterol level, with one serving coming in at about the same amount as what's found in one egg. If you are striving to bring your cholesterol levels down, it may be best therefore to limit how much shrimp you consume. Nutrition wise, shrimp is rich in selenium, vitamin B12, phosphorus, copper, iodine, vitamin B3, zinc, vitamin E, vitamin B6 as well as vitamin A. Additionally, shrimp is also high in antioxidants and may help in the management of diabetes if you are currently suffering.
There you have a summation of the best seafood varieties to consider adding to your diet plan. If you are not serving up seafood regularly at the moment, the nutritional benefits of the above items may just be enough to help you change your mind.
Looking to sharpen your knowledge of nutrition? Join our top-rated Professional Diploma in Nutrition today!
Join 12+ million students who already have a head start.
Sign up today and get 4 weeks free!
No commitments. Cancel at any time.