Social media networks, including Pinterest, Twitter, Facebook, and Reddit, have sparked an animated GIF renaissance, with many big online brands regularly posting GIF animations to attract and engage potential customers. And, guess what? It works. Animated GIFs are a powerful form of media that clients and customers alike go wild for. But did you know they're actually pretty easy to make? Follow these seven steps and you'll learn how to make a GIF in no time.

What is a GIF?
GIF stands for graphics interchange format. It includes a series of frames or images that are played in sequence to create the illusion of a short video clip but in image format. The number of colour tones in a GIF is typically limited to 256. However, the ability to add motion to images and create content that is easily shared more than compensates for the lower image quality.

Get Certified in Graphic Design
Master the basics of graphic design and gain new creative skills.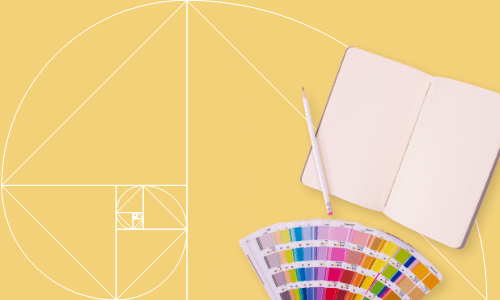 Being visually more captivating, GIF files are regularly used by digital marketers to showcase their ideas, products or services as attention-grabbing memes or advertisements. GIFs make it easier to express and instantly make an emotional connection with your audience as they're small in size, load faster and play automatically without the viewer having to play them manually.
In today's digital world, the ability to make GIFs is a highly coveted skill for any digital marketing or graphic design job, making it a great addition to have on your CV.
In this tutorial, you'll learn how to create your own GIF in five simple steps using Photoshop. The tutorial is so easy, in fact, that even someone trying out Photoshop for the first time will be able to do it without any hassle.
Let's get started.
How to make a GIF
To make a GIF, you're going to need a series of images and Photoshop. For the purpose of this tutorial, I'm using Photoshop 2021 but you can use whatever version of Photoshop you already have.
Step 1: Load your files into a stack
You can take any number of files but for the sake of this tutorial, keep it simple. Make sure the images you choose have a flow. Here are the images I'll be working with below.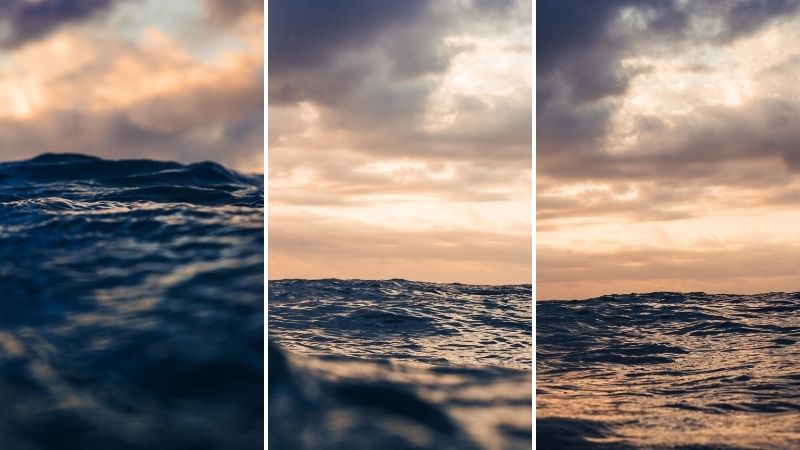 From the top menu in Photoshop, go to File -> Scripts -> Load Files into Stack.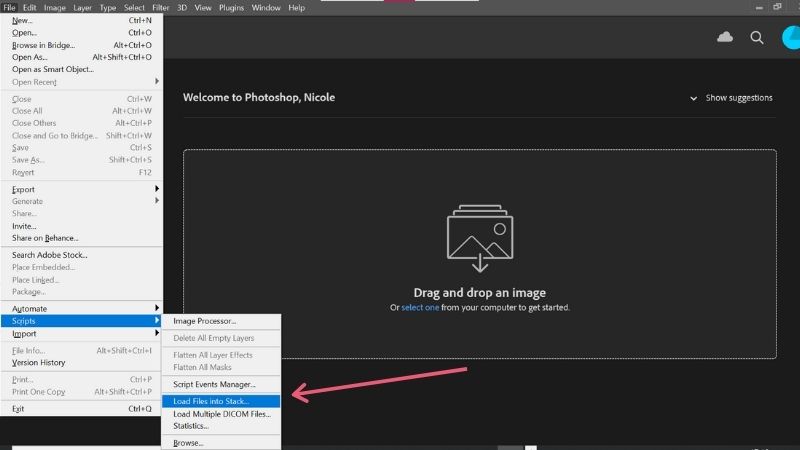 Step 2: Select your images
In the following window, click Browse and select the series of images that you want to load into stacks. If your images are unaligned, you can check the box asking you to Attempt to Automatically Align Source Images. This will stabilise the whole frame of the GIF.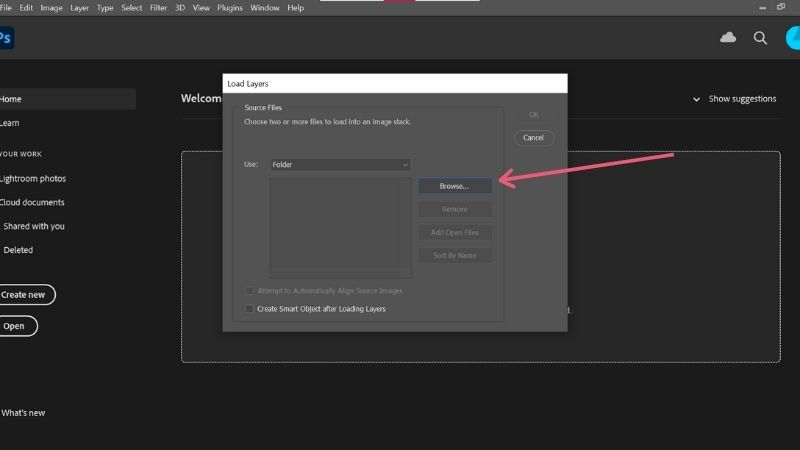 Once you've selected your images, click OK.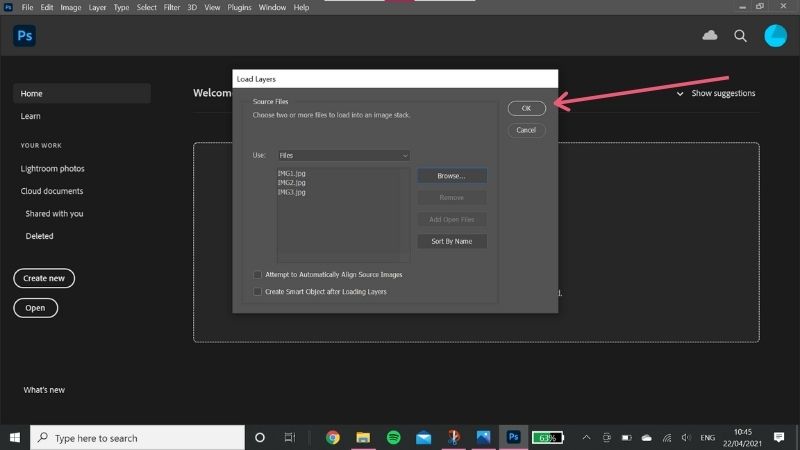 Photoshop will then begin the process of creating a layer for each image that you uploaded. You can find them in the Layers panel in the bottom right corner.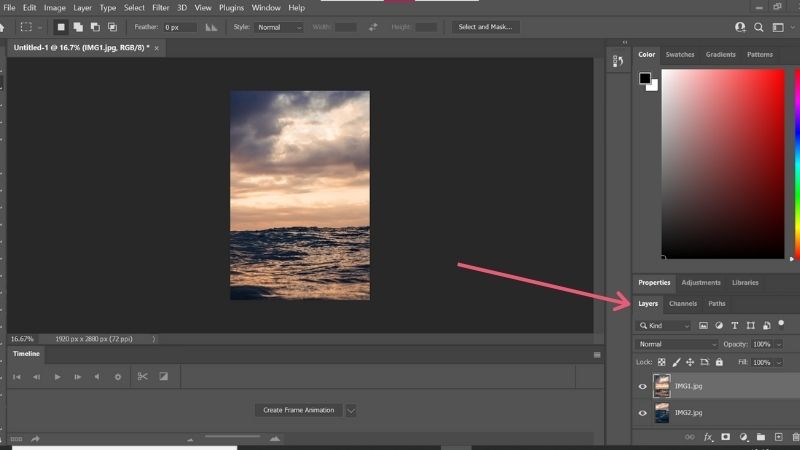 If you want, you can rearrange the order of these layers by clicking and dragging them. You can also rename them by clicking on the name of the layer.

If Photoshop has auto-aligned the images, they may look a little distorted but you can fix this by cropping the frames. If you didn't need to check the "Attempt to Automatically Align Source Images" box in the previous step, you can skip ahead to Step 3.
To crop the frame:
1. Click on the Crop icon.
2. Click and drag the edges of the crop to make your selection.
3. Hit Enter to confirm the crop.
Step 3: Set up your Timeline
From the top menu, go to Window and check the Timeline option. This will make the Timeline window appear below the workspace.
In the Timeline window, click Create Frame Animation.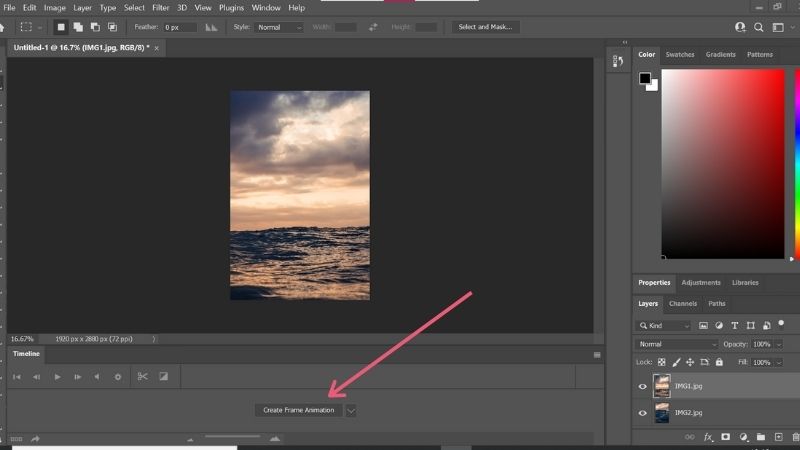 If it's not automatically selected, select it from the drop-down menu and then click it so that the frame animation options show up.
Make sure your top layer is selected and click on the icon below to duplicate the frame.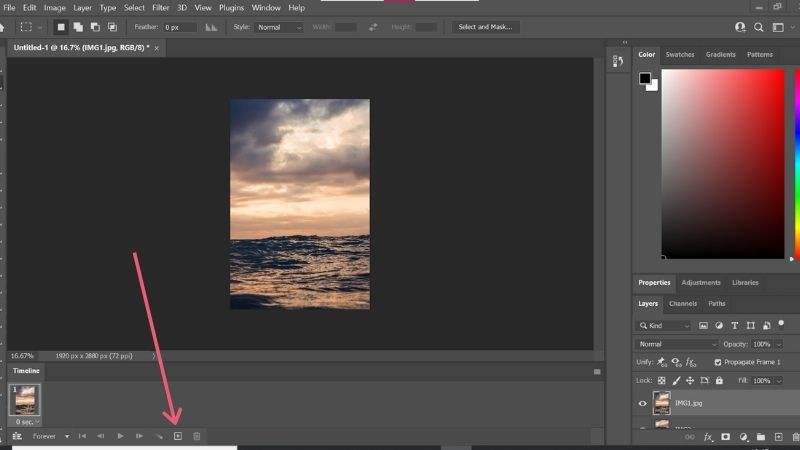 Since I have three images in this scenario, I'll duplicate the frame twice. This will create three frames in the Timeline.
Step 4: Set the timings
Select the first frame. Below the thumbnail, you'll see "0 sec." This is the duration this frame will be displayed in the GIF. Click on the drop-down menu next to it and select your preferred duration e.g. 0.5 seconds. Repeat this step for the following frames.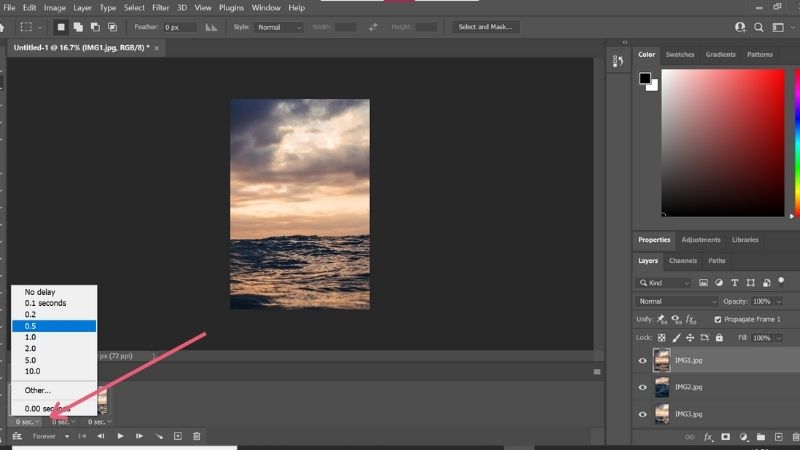 Step 5: Hide the top layers
From the thumbnail, you'll see that the second frame is also showing the first image. To change the image, go to Layers and unhide the first layer.
You'll see that now the second frame shows the image in the second layer.
Move on to the third frame. Here, hide the first two layers in order to reveal the third layer in the frame.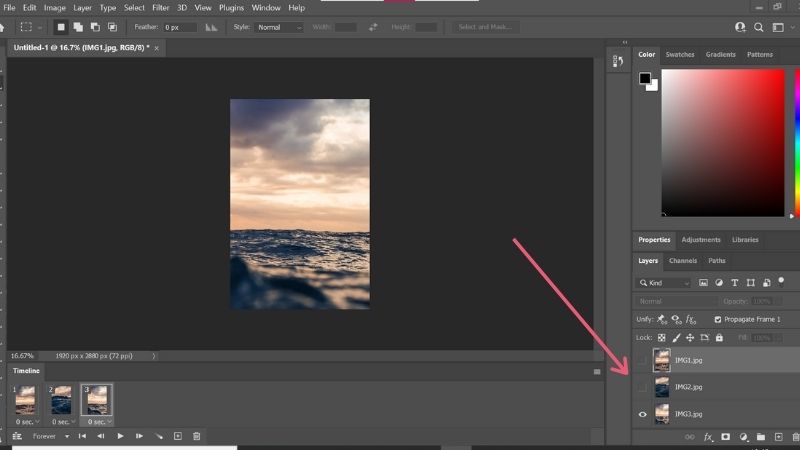 If you're using more than three images, repeat this step until you've set the layer for all your frames.

Step 6: Preview the GIF
Preview your GIF by clicking on the Play icon. Check the order and timing of your images, and ensure the GIF plays smoothly.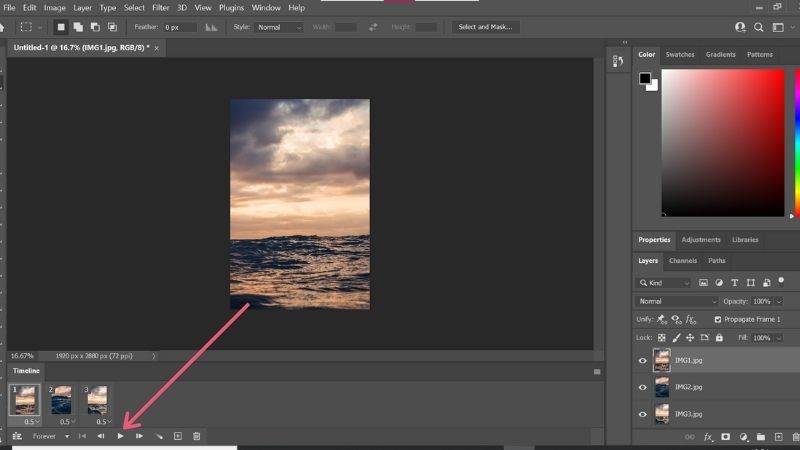 Step 7: Export your GIF
Happy? Go to File and click Save As.
From the drop-down menu, select the file format as GIF. Click Save.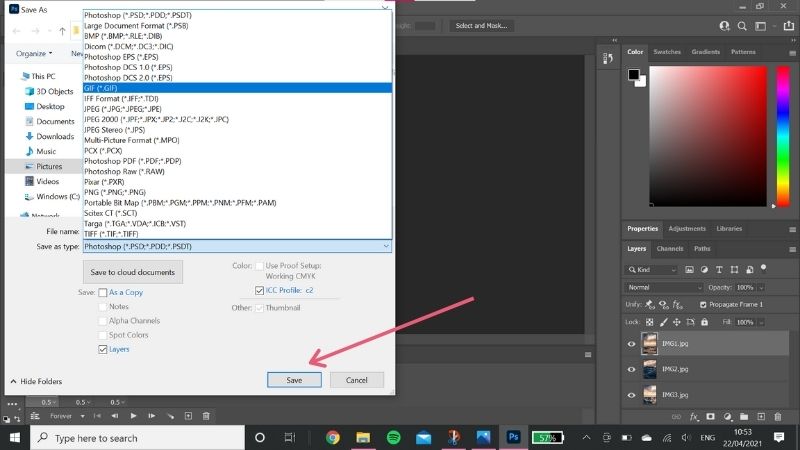 This will then open the GIF Save Options window. Select your preferred settings and click OK.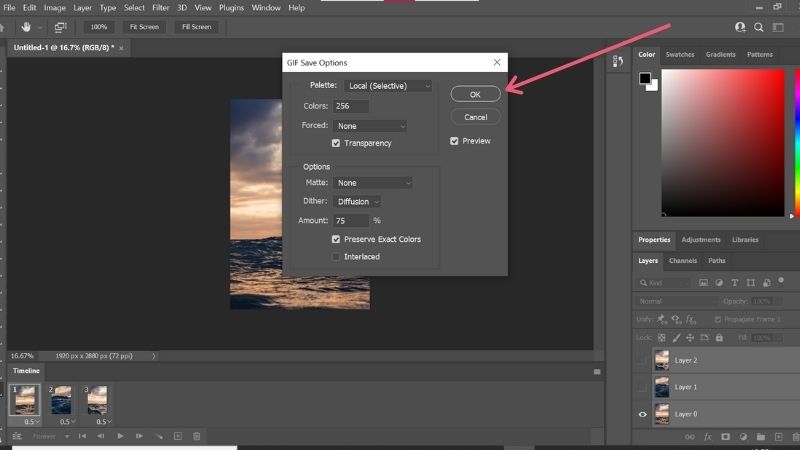 Alternatively, go to File -> Export -> Save for Web. This will open the GIF preview window.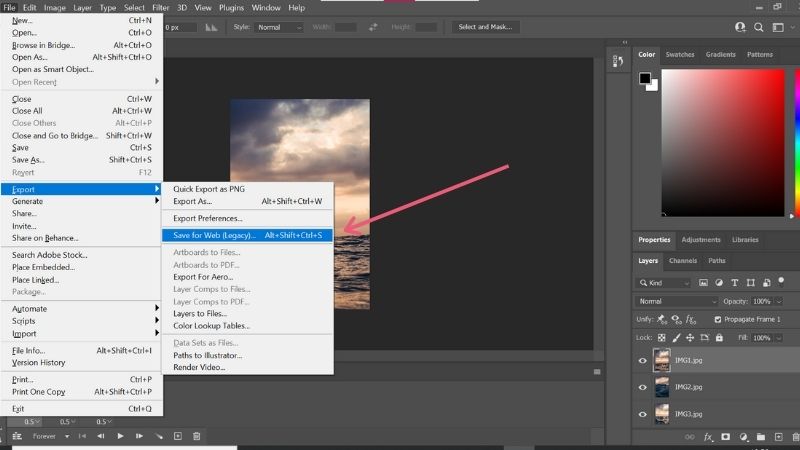 From the drop-down menu in the top right corner, select the file format as GIF. You can also set the Image Size in this window in the bottom right corner. If you want your GIF to be compatible across different platforms, it's a good idea to resize it to 500 pixels in height and width.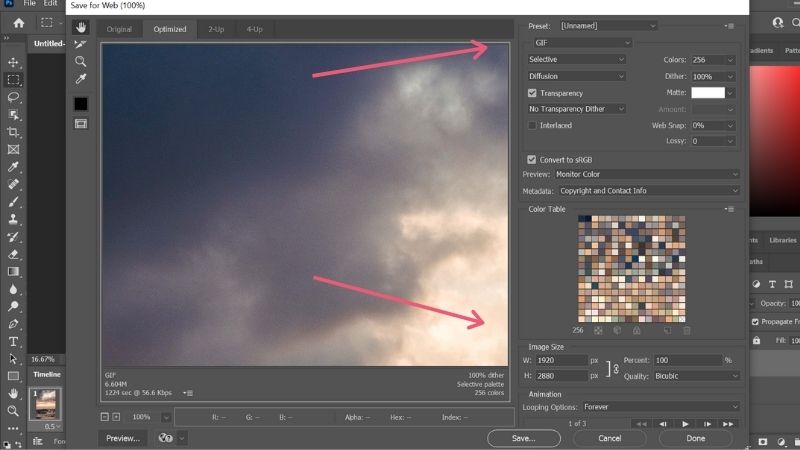 Click Save.
And you're done! You can now enjoy sharing your new GIF-making skills with your friends, coworkers and clients.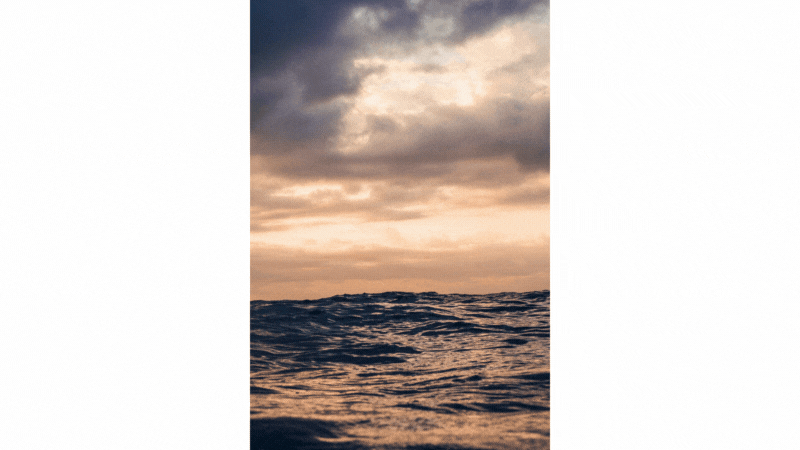 Want to learn more photo editing tips and tricks?
Shaw Academy's online graphic design courses will teach you how master to Photoshop, from the basics to more advanced techniques and processes. Join Shaw Academy today and become a Photoshop pro!
Editor's note: This post was originally published in 2016 and has been updated for comprehensiveness.
Join Shaw Academy's online graphic design course.
Sign up today and get a free 4-week trial!