Are you thinking of becoming a fashion designer? To become a fashion designer is not as easy as it looks. The fashion industry is one of the most competitive industries but with dedication, commitment, and a lot of passion, you will be able to build a successful career for yourself. This article will give you all the necessary information on how to forge a successful fashion design career. But what is fashion design? And what is the role of a fashion designer?
Recommended for you: Learn how to build a fashion label with a free 4-week course.
The role of a fashion designer
A fashion designer's role involves the designing and construction of clothing. This normally includes:
Working with a brief or a client
Analysing and predicting silhouette, colour, and textile trends, and incorporating these into your designs
Drafting the patterns of the designs
Manufacturing the designs
Managing the business side of things
Selling the clothing, which includes the marketing and merchandising of said clothing
How to be a fashion designer
If that sounds like the dream job to you, you can follow the five steps below to make that dream become a reality:
Complete a fashion design course
There is no formal education required to become a fashion designer, however, a fashion design course will help you develop your technical skills and strengthen your knowledge. To become a successful designer, you will need to have a combination of skills including design skills, drawing and illustration, pattern drafting and construction skills, and some business knowledge.
Sharpen your skills
It is important for designers to constantly develop their skills. Some of these skills include the ability to visualise concepts, fashion drawing and illustration, computer-aided design, pattern making, and the construction of the designs.
The business of fashion
Behind the flair and the glamour of the fashion industry is the business of fashion which is needed to keep your brand running. It is key for a fashion designer to familiarise yourself with what goes on behind the scenes especially if you dream of starting your own brand. The business of fashion includes finances and bookkeeping, costings, sales, and the marketing of the product.
Learn Fashion Design
Explore the inner world of fashion design and learn how to bring your designs to life with practical illustration and sewing skills.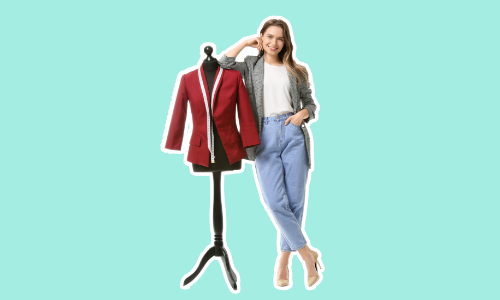 Create a portfolio
To market yourself and your talent, it is vital for a fashion designer to create a portfolio highlighting your creative abilities and skills. A good fashion portfolio should display your best work, like drawing, pattern making, and construction skills.
Be conscious of trends
The fashion design industry is ever-evolving so it is important for designers to keep up with the latest trends by regularly reading journals and magazines and attending fashion seminars and events.
How to start a clothing line
Do you want to start your own amazing clothing line? Almost all designers dream of creating their own clothing line. Here are some of the first basic step you should take to build a brand:
Write a business plan
A business plan is a formal written document that outlines the goals of the brand and how you intend to manage your clothing line. When drawing up your business plan, remember to be as realistic as possible. Do you want to start a business but don't know where to start? Don't worry, the How to Start a Business course will take you through developing a business plan and setting up your business for success.
Find your niche and target audience
After you have written your business plan, you need to establish your niche in the market and in the fashion industry. A good way to find your niche is by identifying the d