The sound and music industries are fast-paced environments shaped by culture, technology, fashion and the limitless creativity of the artists that make up the industry. To be a part of this vibrant and exciting profession takes dedication, hard work and great networking.
What is a sound engineer?
A sound engineer looks after the technical side of a recording or live performance. They mix, reproduce and manage sound, and are in charge of maintaining physical sound equipment, such as amps and microphones. While a sound engineer is often associated with music, this profession isn't strictly limited to the music industry as you'll find out later in this article.

Learn Sound Engineering
Learn how to record, mix and sculpt any sound to perfection.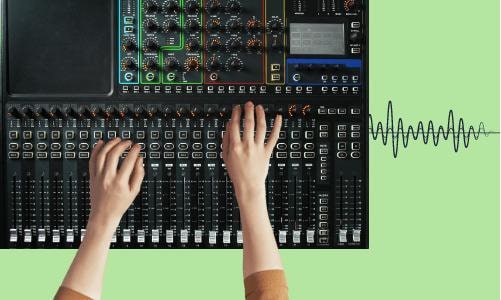 How to become a sound engineer?
There is no single route to becoming a professional sound engineer, and the decisions you make today will ultimately shape your decisions tomorrow. Industry experience and having a portfolio of work is crucial to getting clients and job opportunities.
To get the knowledge and skills required to become a sound engineer there are many brilliant university degrees (up to PhD level), diplomas and short courses such as Shaw Academy's online sound engineering course that will teach you the fundamentals and advanced music technology practices, but to get work and recognition in the industry, you also need to present a portfolio of work – even if it's some of your own work you did as a student. This requires a lot of practice, making mistakes, correcting them and learning from them. As a sound engineer, your experience counts as much in your favour as your qualification, if not more.
It is equally important to expose and familiarise yourself with the many areas of specialisation that the audio industry offers, from music production to live sound and band recordings. This way you can make a clear and informed decision on which direction you want to develop and hone your craft.
Let's look at the main areas that an aspiring audio or sound engineer can explore and what it takes to make it in each field.
Where do sound engineers work?
1. Music production
One of the most common reasons why people find themselves in the audio industry is due to their passion for music. Many sound or audio engineers are also avid musicians and even though they may not be recording artists, their musical knowledge and expertise help recording artists deliver chart-topping hits and Grammy-winning albums.
To excel in the music production field, you need to equip yourself with musical knowledge and lots of practice. Find your strengths, make them stronger and find your weaknesses and work on them diligently. There are many genres and styles of music, and as a sound engineer, it's best to be reasonably comfortable with recording and producing a variety of genres. To achieve this, you need to practice and familiarise yourself with the production tools, tricks, and techniques of a variety of genres.
2. Location and film post-production
The role of a location and post-production sound engineer requires working on set alongside the film crew. On set, the sound engineer works closely with the director to make sure that the microphone is out of the frame, but that audio is captured as clear as possible. Once audio is captured on set, it will often be used as a guide track for dialogue replacement, or ADR. Usually, sound effects and ambient sound are also recorded and added to support the sound of the film.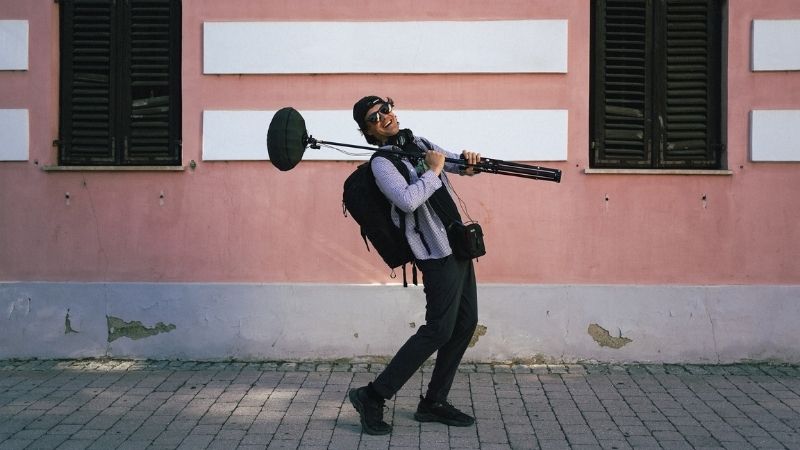 To find your feet in the location and post industry, find short-films and independent filmmakers and work on set. Build your experience, grow your sound effect library, and develop good location recording techniques and practice.
3. Band recordings
Band recordings is a very exciting field. As a sound engineer, you get to work with a massive variety of musicians, genres, styles and instruments. On top of that, the digital elements in band recordings are ever-growing, so if you have a passion for music and do not want to compose or arrange, band recordings are for you.
In order to make it in the band industry, you need to develop a keen ear for instrument tuning and immediately be able to identify when an instrument, singer, or drum kit is out of tune. You also need to have a good understanding of the microphones that you are using. Whether you own or rent them is up to you, but you do need to understand the microphone type, its common application, and best practices for recording the instrument.
4. Live sound
Live sound is a dynamic, high pressure, big city bright lights kind of job. You are awake when everyone else is asleep busy setting up or breaking down a variety of sets. All the way from music festivals to talk shows, sports broadcasts, conventions and speeches, the requirements for live sound are truly limitless and you need to be prepared for anything. It's also an industry where you need to be able to think on your feet, problem solve on the fly, and from time to time, come up with a creative solution to a technical problem to make sure that the show goes on.
5. Game audio
The gaming industry has never been bigger and there has not been a better time than now to get involved. To develop the skills required for the gaming industry, you need to commit yourself to a variety of fields, get good at them and network like crazy. The gaming industry is a very tight-knit community and breaking into the industry as an audio engineer takes some real elbow grease.
You need to be really comfortable with game engines, coding to an intermediate extent, be a brilliant sound designer, location recording artist, music producer, band recording engineer, independent, trustworthy and have a keen eye for detail. It is probably one of the most challenging fields in sound, but also one of the most satisfying when everything works.
Do you want to become a sound engineer?
The audio industry is massive with a huge variety of fields to specialise in. The industry is also relatively young, and there are new opportunities for trained sound engineers emerging every year. Join our online sound engineering course today and get started today: you can set your own schedule, and the first four weeks are free.
Join 12+ million students who already have a head start.
Sign up today and get 4 weeks free!