"Healthy skin is a reflection of overall wellness."
Every one of us wants healthy and glowing skin. It is essential to understand that our beauty is a direct consequence of our eating habits, skincare routine, and lifestyle habits. But we get stuck with cosmetics to get that glowing and radiant skin. Though most people do not realize it but their favorite skincare products are contributors to harmful ingredients, toxins, and chemicals. The fact is, the majority of store-bought, commercially manufactured beauty products come packed with artificial colors, fragrances, and preservatives that are easily absorbed by the skin's pores, potentially causing a range of adverse longterm health effects.
However, this does not mean that you should not take care of your skin. The good news is that there are various natural skincare tips to make your skin glow. Women all over the world have been using **homemade skincare **products to have naturally glowing skin.
Natural skincare demands consistency, so you have to keep doing the mentioned activity for a certain period to see results. Remember, healthy skin means that you don't have to use makeup to look good. Focus on achieving radiant skin and then let it breathe. So here are some of the natural skincare tips.
Hydrate
Skin is more plump and resilient if it's well hydrated. When there is adequate water, the skin looks healthier and vibrant. Hydrating our bodies can alone solve many issues, yet we choose not to keep it as our priority. When your body is not hydrated, it does not perform in the most optimum manner, and it shows on your skin as well. The skin becomes dry, flaky, and dull. Thus, hydrating your body is the most essential tip for skincare at home.
Watch Your Diet
"The beauty of the skin is that you can affect it from both inside and outside."
skincare at home means eating right is vital for the overall well being of your body, including the skin. A healthy diet should include antioxidants as it helps fight bacteria, and diseases and also prevents free radicals that accelerate aging. Foods rich in antioxidants slow down inflammation and the formation of fine lines and wrinkles. Nuts, leafy vegetables, green tea, apricots, soybeans, lentils, and milk are some rich sources of antioxidants.
skincare at home begins with a healthy diet. It is often said that one should have a rainbow-colored meal. It means that your plate should have different types of food rich in vitamins and minerals. Another good idea is to have a meal rich in Omega-3 fatty acids that helps to keep the outer layer of skin healthy and intact. Salmon, eggs, and walnuts are rich sources of Omega-3.
Go Organic
Just as organic skincare is important, taking a natural diet is also beneficial. Needless to say, organic food is free of toxins and many other harmful ingredients. Consuming organic food makes your skin healthy, along with providing all the nutrients to your body.
Exfoliate Your Skin
The best way to brighten your skin and boost its glow is to exfoliate it. This process removes the skin's outer layer of dead cells so that its surface becomes smoother and brighter. Since organic skincare does not do any harm to your skin, you can choose homemade skincare products to exfoliate it. Honey, yogurt, sugar, lemon, and banana are some products that you can use to exfoliate your skin naturally. You can also make face packs using homemade skincare products.
Papaya and Banana Face Pack
Papaya and banana are both great ingredients when it comes to natural skincare. You need to mash bananas and papaya and add some honey to it, mix the ingredients well and apply it all over the face. Let it dry and then wash it with regular water. This homemade skincare face pack leads to glowing skin and controls oil production.
Turmeric, Honey, and Yoghurt Face Pack
These ingredients even your skin tone and brings out its natural glow. It is one of the best organic skincare hacks one can use. All you need to do is mix a teaspoon each of turmeric and yogurt with half a teaspoon of honey. Apply this homemade skincare pack on your face and let it dry. Later, wash your face with regular water.
Learn Professional Beauty
Uncover everything you need to know about beauty therapy, from skincare and makeup application to hair and body treatments, with practical online training.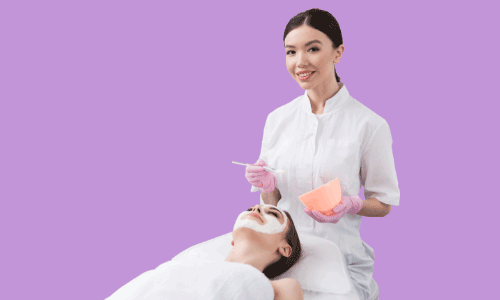 Green Tea Face Pack
Green tea has antioxidants which are essential for healthy skin. It can help restore the natural glow of your skin. Another natural skincare pack you can use is by making a fine paste of green tea, turmeric powder, and chickpeas flour. Apply this paste on your exposed areas for 15 mins and rinse off with water. Do it once a week.
Manage Stress
Uncontrolled stress can make skin sensitive and lead to acne breakouts and other skin problems. For healthy and vibrant skin, you need to have a healthy state of mind. Take specific steps to manage your stress, such as scale back your to-do list, do things that make you happy, and set reasonable limits. The result will be more dramatic than you expect. Reducing stress is an essential natural skincare tip.
A healthy body leads to healthy skin. While many people want to have healthy skin because of the radiance it provides, it can be an indicator of overall health. Always keep yourself hydrated and have a healthy diet. Avoid too much sugar intake and keep yourself protected from harmful sun rays. It is not deniable that skincare and anti-aging products are huge industries, but indulging in natural skincare is harmless. So, go natural and glow naturally!
To have healthy skin, you can learn about personal beauty through a diploma in the same. The course will help you to master your natural skincare routine and make sure you have the perfect skincare routine at home. It is true that self-grooming is essential for every person. It is an act of caring for your own body and appearance. It not only makes you feel confident but enhances your personality and makes you stand out from your competitors. So, what are you waiting for? Get yourself enrolled in a diploma in personal beauty as soon as possible.
Looking to enhance your knowledge of skincare and beauty? Join our top-rated Professional Diploma in Beauty Therapy today!
Join 12+ million students who already have a head start.
Sign up today and get 4 weeks free!
No commitments. Cancel at any time.