Have almost every makeup must-have in your vanity and still can't create that flawless look? Well, maybe the magic behind that Instagram-worthy look lies not just in the products but also in their application. If improving your makeup skills feels like a lost cause, try learning from some makeup tutorials to give you that much-needed guidance to effortless and chic looks.
Recommended for you: Learn how to contour like a pro with our online Makeup course. Join today and get the first 4 weeks for free!
Discover our list of 8 easy-to-follow makeup tutorials by the best YouTubers and celebrity makeup artists in the business to stay in vogue.
1. Bobbi Brown's Five-Minute Makeup Tutorial:
This makeup tutorial is for when you've just got 5 minutes to cover those puffy eyes from a late-night hangover or those acne marks from the last hormonal breakout you suffered. Everyone wants to look their best with just a handful of products — and without investing a lot of time into the process because let's face it, we don't get paid for the time spent applying makeup. In just a five-minute video, Kim Soane from Bobbi Brown Cosmetics teaches you how to do makeup with only five products, and the results are pretty seamless and amazing.
2. Ellarie's Matte Cut Crease Fall Makeup Tutorial:
What if we told you that smokey eye makeup isn't as difficult as it seems? Well, if you are a newbie makeup junkie, you can thank us later, for here is the most eye-conic smokey makeup tutorial ever! Popular Instagram beauty guru Ellarie teaches you how to nail that cover girl look without using a plethora of products in less than 10 minutes. Additionally, this makeup tutorial gets to the point — perfect for those who aren't fans of those chatty 'get ready with me' style videos. Although the highlight of this video is the smokey makeup, she does end it with some lip tint application for a complete look.
3. Adele's Grammy Red Carpet Look:
Adele's much-hyped 2012 Grammy appearance, where she is seen donning a sultry red lip colour and gorgeous kohl-laden eyes, has won the hearts of many makeup aficionados. If you are keen on recreating this glamorous look, this highly-watched makeup tutorial by celebrity makeup artist Lauren Luke is one of the easiest ones on the internet. Whether you follow celebrity fashion or not, this makeup tutorial for beginners is the perfect recommendation for a step-by-step approach to glamour. And to add on to the ease, Lauren has kept it real and uncut to assure beginners that faux pas is for real.
Learn Makeup
Master the basics of skincare and makeup, before developing more advanced techniques, and learn how to contour like a pro with practical online training.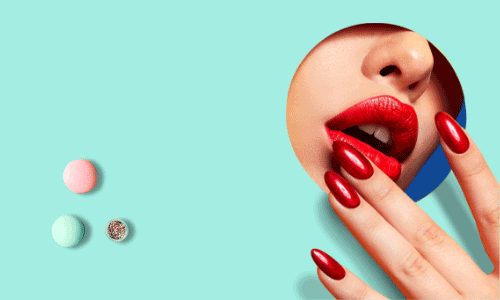 4. Dilan Sabah's Glass Skin Makeup Tutorial:
Originated in Korea, the glass skin makeup is the beauty industry's lastest obsession worth peering into. In this 14-minute makeup tutorial, Dilan Sabah teaches how to ace that natural-looking glass skin finish with the right amount of blending and glossiness. And if you thought that glass skin makeup is only for people with spotless skin, think again. The incredible thing about this makeup tutorial is that Dilan begins it with bare skin and gradually covers all the imperfections with just the right amount of products.
5. Sam and Nic Chapman's Mature Skin Makeup Lesson:
The degeneracy of the beauty business lies in almost every blogger or influencer endorsing young and plump skin. Every time you scroll through your smartphone, you will be hard-pressed to find makeup tutorials for mature and ageing skin, leaving many older women wondering how to do makeup. But the sister duo of Sam and Nic Chapman is filling that demographic gap up by showcasing some simple and doable makeup techniques on their mother. Right from the products to the application style, everything in this makeup tutorial is done aiming towards mature skin types. Now achieving a trendy makeup look is possible, no matter what your age.
6. ThatsHeart's Full Face Makeup Challenge Using Only One Brand:
Famous YouTuber "ThatsHeart" has come with this unique makeup tutorial where she does her entire makeup using only Maybelline products. In a market that is flooded with high-end brands and celebrity endorsements, it's refreshing to watch a makeup tutorial that shows a drugstore brand can help you achieve the same results at affordable prices. An almost 16-minute long video, this makeup tutorial for beginners is just the thing if you want an elegant full-face look without burning a hole in your pocket.
7. Patrick Starrr's Eyeliner Tutorial:
Amidst the tsunami of makeup tutorials that are published on a daily basis, the claims of applying that perfect winged eyeliner are the most resounding. Not many would like to admit, however, that evenly applying eyeliner is one of the toughest jobs for makeup enthusiasts. But YouTube makeup sensation Patrick Starrr walks you through the gruelling eyeliner application process with ease and panache. From candid product descriptions to brush cleaning, this essential makeup tutorial covers it all. What's more, Patrick's nuances will leave you entertained.
8. Michelle Phann's Game of Thrones Look:
If there is one thing that has taken the world by storm, it is the popular TV series Game of Thrones. Longtime fans of the show who want to learn how to do makeup like Daenerys Targaryen will love this enchanting makeup tutorial. One of the most popular beauty vloggers on YouTube, Michelle Phann's ability to transform herself with the help of everyday makeup products has won her a huge fan following on social media. And this makeup tutorial is testament to those abilities — the flair with which she achieves the surreal look of the dragon queen is impeccable. In this makeup tutorial, she guides you through the process of creating that regal look with a flawless base and fuller brows.
Makeup Tutorials Are All the Rage
These were some of the most viewed and liked makeup tutorials doing rounds on the internet. As overwhelming as it can get with thousands of videos popping up your timeline every day, not every one of them will be a learning experience. So, if you are planning to become a makeup artist or simply want to learn how to do makeup for yourself, try enrolling in an online class.
Shaw Academy's diploma in Personal Beauty is one such course that includes almost everything starting from skincare to makeup in 16 weeks over 32 interactive lessons. Rated as one of the best beauty courses online, this one is highly recommended for kickstarting a career in beauty.
Want to learn more? Join Shaw Academy's online makeup course today!
Join 12+ million students who already have a head start.
Sign up today and get 4 weeks free!
No commitments. Cancel at any time.