Looking good is more than just stoking a sense of vanity. It is also a big part of feeling good about oneself and giving that sense of self a much-needed boost. And to do that, women have, for years, turned to makeup products and makeup hacks that accentuate their features. However, the advent of social media and just about everyone looking like a million bucks all the time can leave you feeling inadequate about your own abilities to apply makeup like a pro. After all, we have all at some point or the other attempted to replicate video tutorials and ended up with disastrous results. To make sure that doesn't happen again, we bring you these 10 game-changing makeup hacks that make your skills match that of a professional makeup artist:
Recommended for you: Learn how to contour like a pro with our online Makeup course. Join today and get the first 4 weeks for free!
Mix a Little BB Cream with Your Highlighter
Makeup that doesn't look made up – that's the rule of thumb to swear by when doing up your face. If you want that dewy, smooth-looking appearance without having to overload your skin with a dozen different layers of different products, this should definitely be your go-to makeup hack. Mix a little bit of BB cream with a drop of your highlighter and apply it to your face and neck. This combination will instantly lend a fresh, supple look to your face while giving your skin ample room to breathe.
Warm Up The Liner Pencils
If you need to pick one from the long list of eyeliner hacks out there, this should be your go-to. Apply a little heat to the tip of your eyeliner or kajal pencil for a second or two to melt it slightly for a good colour payoff. To do this, hold the tip of the liner under a flame for just a couple of seconds and then allow it to cool slightly before applying it along your lash line. Never again will you have to struggle with pencil tugs, skips or applying multiple coats to get the pigmentation right.
Learn Makeup
Master the basics of skincare and makeup, before developing more advanced techniques, and learn how to contour like a pro with practical online training.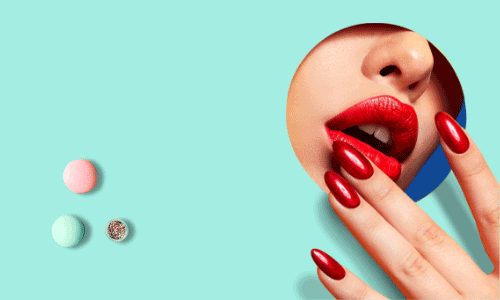 A Hashtag for Perfect Smokey Eye
No, we don't mean the hashtags you use on Instagram, even though that's how we found this makeup hack. Struggle to get that smokey effect on the eye right? Here's one of the coolest eyeshadow hacks for you – draw a hashtag in a slanting shape close to the outer corner of your eyelid and then use an applicator to smudge it inward, covering half the eyelid. Apply a soft, neutral colour on the remaining half and blend. Et Voila!
Dot Your Cupid's Bow with Invisible Liner
Defining your lips with an invisible lip liner is perhaps the most valuable of the makeup life hacks you'll ever discover. A neutral colour-liner adds definition to your lips and prevents bleeds without adding an awkward outline. To make the most of this trick, use the lip liner to define the cupid's bow on the top of your upper lip by drawing an X-mark on it. This is a quick and effective way to accentuate that pout. Almost as if it were done by a professional makeup artist.
White Eyeliner to Make Your Eyeshadow Stand Out
You may have come across many eyeliner hacks in your lifetime but, we bet, this one is new. And with the trend of sheer or neutral eyeshadow shades fast catching on, it's one that will come in handy a lot. Invest in a white eyeliner and use it to cover your entire eyelid, allow it to dry and then apply eyeshadow. This makeup hack will make the colour on your eyelids really pop.
Eyeshadow Primer to Beat that Oily Nose
The beauty of makeup hacks for girls is that they make us aware of the versatility of beauty products on our shelves. Take this hack for instance, who would have thought of using an eyeshadow primer on their nose! But it one of the most effective makeup hacks that helps you get rid of that oily sheen on the bridge of the nose. Just apply a drop of the primer on the nose and absorb it into the skin properly before wearing your foundation and enjoy a matte look all day long.
A Hot Water Bath for Your Mascara
We all share a bit of a love-hate equation with our mascara. Isn't it? While it works wonders to bring our eyes alive, finding it all clumpy and dried out can be insanely frustrating. This is one of those mascara hacks that will simplify your life like never before. Whenever using your mascara after a long time, just let it sit in hot water for a while before you start your makeup and revel in the glory of that lustrously thick liquid. Pro tip: If the mascara has dried out, don't forget to check its expiry date before trying this hack.
Powder and a Kiss to Make Your Lipstick Last
Planning to party all night? Attending a wedding? You don't want your lipstick to disappear halfway through, dampening your entire look. Here is a makeup hack to make sure that doesn't happen – after you apply lipstick, blot it slightly by kissing a paper napkin. This helps get rid of the excess lipstick. Now, dab a little powder on your lips and apply another coat. Just like that, your lipstick is all set to stay on for as long as you want to stay out.
Test Makeup Shades on Your Neck
Trying to figure out the perfect shade for your foundation or concealer can be quite a task. Between trying wearing and removing different shades in a matter of minutes and struggle to keep up with the pressure of the salesperson and the bright yellow lighting in the store, you almost always end up making a choice you are not entirely satisfied with. This makeup hack will help you break free from this cycle. Here is one of the most effective foundation hacks to your rescue – next time, try matching the shades on your neck and not your face, as the former reflects your actual skin tone more closely and remains unaffected by pigmentation, spots, acne, and other such skin troubles.
Shampoo Your Makeup Brushes
Everyone knows that it is important to clean makeup brushes from time to time, but few people know how to do it right. Well, there are makeup hacks for that too, and this one is our favourite – place your brushes in a strainer and dip it in a shampoo solution for some time, then simply rinse with clean water and it's done. No special equipment, no struggling to get makeup particles out with your fingers.
Become a Makeup Pro
Want to learn more? Join Shaw Academy's online makeup course today!
Join 12+ million students who already have a head start.
Sign up today and get 4 weeks free!
No commitments. Cancel at any time.